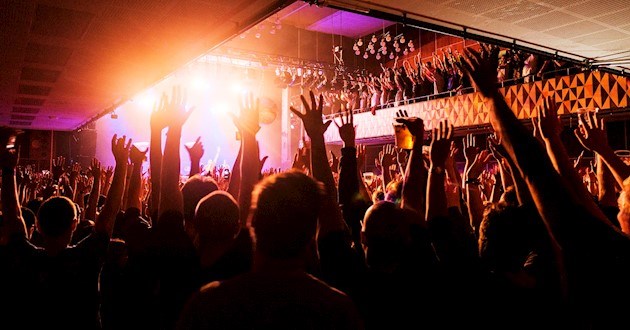 "The digital paradigm that affects all industries has made it relatively simple for venues to produce their own content. It's simply cheaper to be a digital venue, than to rely on print etc.", says Ditte Sig Kramer, who is Head of Communication at VEGA.
The low cost and the segmentation possibilities that digital communication provides are some of the reasons why Vega has made a move towards becoming their own content producers. Another reason is that artists have become storytellers and media channels in their own right and by working together with them VEGA can distribute messages directly to interested fans.

"We try to build anticipation before the show by collaborating with artists, by producing our own content and by being alert on the big internet to see if there is something we can use. During the show, we encourage people to share their concert experience, and after the show it's all about saying thank you and showing them other concerts that they might be interested in", she says.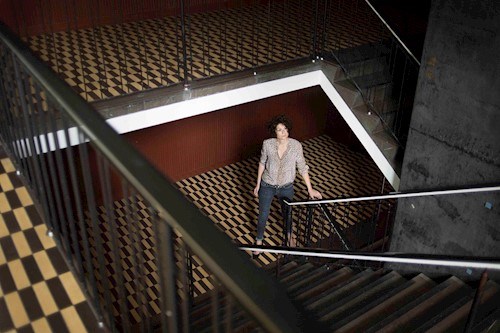 Head of communications at VEGA, Ditte Sig Kramer
VEGA's original video formats
In working towards becoming a media production facility, VEGA has been working conceptually with video for a while. One of the original concepts they have created is the "Either/Or"-video series, where artists talk about what they would choose if they had to choose between different foods, famous people or something completely different. 

"The format is easily consumed and entertaining for casual followers on social media. We try to angle the questions, so they fit the artists, and we give the artists a possibility to open up their world to new audiences. It works well with bands that are a bit introverted and hard for audiences to understand immediately", Ditte says.
VEGA also works with what they see as the equivalent to "longreads", which is a video-format that dives deep into a text universe or the musical legacy of certain artists. By doing this VEGA emphasizes the brand of the musician with an entertaining video, that is used to convince audiences to buy tickets, while they learn more about the artist's musical universe. When distributing the video VEGA does many versions of the main movie for their different digital channels, produce a feature-article on the website and uses the video in newsletters etc. With this content VEGA contributes to the music culture around the venue, while steadily building a brand as a reliable storyteller.

"The artists are very engaged in sharing this because we take the time to get into their universe and career", Ditte says.
Practical advice for smaller venues
Ditte is very aware that working for a large venue privileges her with a lot of guests coming through the doors each year and a lot of awareness. That means that VEGA can invest in optimizing their digital presence. She does however, have some practical advice for smaller venues.
"I would recommend that smaller venues try to figure out how to 'own' the content they receive from touring artists more. By implementing a clear graphical identity it makes the videos stand out with a relatively small time investment. Another easy win is to get the artist to talk about a local subject. It makes the pieces much more relevant and valuable for your specific venue."
Other than being more pro-active in collaborating with artists, Ditte also emphasizes that people have become more forgiving in terms of quality when watching content. You can come a long way with a smartphone and some additional gear, by prioritizing your channels and creating a top-3 list of content types that you would like to work with, she says.
One of those content types could be GIF's, she recommends: "If I had to choose between doing a video and a GIF I would do the GIF. You can make sure to come across with your message and sales points much easier with this editorial format."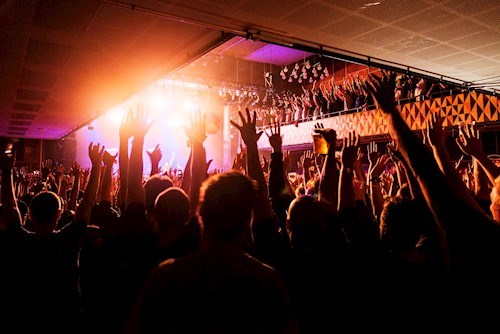 Store Vega is one of the stages at VEGA.
Getting a Nordic message across by conceptualizing formats
VEGA presents a lot of Nordic artists during the year. In an effort to highlight female artists from the Nordics, VEGA has found a way to utilize the Nordic brand and the Nordic artist-environment in a beneficial way.
This has resulted in the puls-funded event series Nordic Future Feminism, which have already highlighted Nordic acts like Konni Kass (FO), Min Stora Sorg (SE) and Mammút (IS).
The agenda of getting more female artists on stage has been a part of the venue's strategy for a while. VEGA registers the amount of female artists and musicians on stage, they have done debate events about feminism and they care about diversity in the staff and the way the venue communicates.
Working with this agenda across the Nordic region has created new opportunities for VEGA.
"Denmark has not been at the forefront of this agenda. The other Nordic countries are further ahead, and by presenting artists and musicians from these countries, we can help create role models while presenting new and exciting talent from around the Nordic region", she says. 

The event series continues in the spring with new and exciting artists from the Nordic region. Go to VEGA's website to learn more about the venue and take a closer look at how their content and concert concepts are presented.