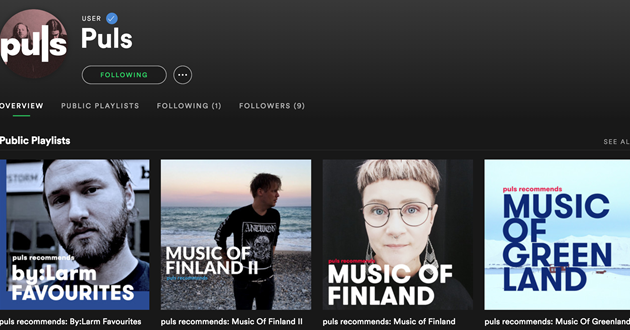 Here at the Nordic Culture Fund we've previously encouraged you all to start sharing music from your home-countries with organizers in other Nordic countries. We are also trying to do our part by using Spotify as a platform, where you can listen to well curated playlists from all the Nordic countries.
So far we have playlists representing various genres from Finland, Greenland, the Faroe Islands and a playlist with favourites from the booking team at the festival By:larm.

Follow us on Spotify for more tips to treat your ears with Nordic music.
Have you ever wondered what Finnish music sounds like? We thought the CEO of LiveFIN, Salla Vallius, might have an idea so we asked her to curate a playlist for puls only. The playlist contains a broad variety of music and we're sure you might like some of it! Give it a go and learn more about LiveFin here.
After listening to Salla Vallius' "Music of Finland"-playlist, we were left hungry for more. So we called up Koivisto Miikka, the lead singer of Finnish post-hardcore band Disco Ensemble, and asked him to show us some up-coming Finnish music. And don't worry if you don't like hardcore music; he made sure to curate a playlist with a broad variety of music!
While we were at by:Larm we felt bad for everyone not being there and missing out on all the cool Nordic projects and music happening. So we asked by:Larm's music program promoter, Joakim Haugland, to curate a playlist for us on Spotify in which he presents his current Nordic favorites. Give it a go right and check out what the festival is up to here.
Other than having the world's largest ice sheet, Greenland also have some really cool and talented artists. Mats Bjerde, the director over at The Nordic Institute in Greenland has put together a playlist for us on Spotify with "some new, some old, but immortal" music.
Check out what Mats is doing at the The Nordic Institute in Greenland here.
We asked four Faroese music venues to share their favourite tracks from the Faroese music scene. Listastovan, Mentanarhúsið í Fuglafirði, the Nordic House in Tórshavn, and Spaniastova have together created this playlist.