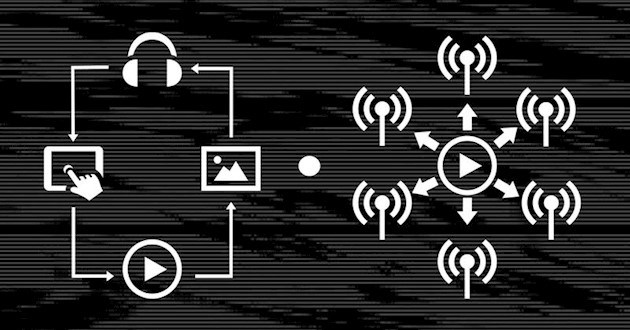 By Emil Sørensen, Digital Specialist at Volume
A study of 20 different venues in the region of Zealand in Denmark found that 70% of live music venues felt like they lacked brand relevance, and found it hard to market their events in a digital environment. The study also found that somewhat traditional methods like print ads, magazines and newsletters were highly prioritized, leaving limited room for social media platforms like Instagram, Snapchat, Twitter and YouTube, which additionally and wrongly were considered less important in engaging the most desirable audiences: the 15-29 year-olds. Although Facebook was thought to be both important and was being prioritized, it seems clear that there is a discrepancy between investments in marketing and the desired outcome of those investments. 
So, one important objective for venues should be to gradually start shifting the promotion budget toward the right social media channels. But getting it right on social media is not only about the right channel. It also requires you to tailor the promo content you produce to fit these social channels. This isn't necessarily super complicated, but it does require you and your team to do things differently, and  think differently about the how and why you do it. 

Looking at the marketing output of music venues in general, it is evident that a lot of music venues assume that the dynamics and context of old-school marketing are the same on these new digital platforms. This is a challenge, as audiences and consumers have much more power in these new social spaces. This changed dynamic calls for an entirely different approach to why music venues should create content. This is where adopting a publisher mentality can help music venues gain the long-termbrand relevance they seem to be lacking. 
Why should music venues act like a publisher?
Music venues are not TV, radio-stations or magazines. But they are storytellers. At every event they curate and produce the story, which the concert is. They give us all a space for reflection and the opportunity to cry, go mental and sometimes be furious that a show didn't live up to our expectations. Music venues are facilitators of the stories that we tell our friends and family members, and in the changing dynamics of the media environment, it is increasingly important to embrace and own this role as a storyteller. It's an opportunity for venues to take on a more central role in the cultural conversation.
Back in the day, all you needed to do to create a successful event, was to hire a band, decide where they were going to play, then try to attract audiences by getting press coverage in local newspapers. Put into a formula it would look something like this:
Concert details * distribution = Sales.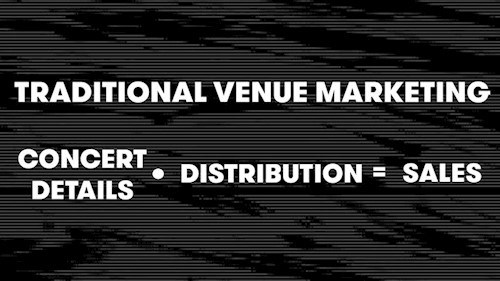 Nowadays, the distribution and formats of marketing have gone from newspapers and billboards to digital platforms like Facebook, Instagram and Youtube, which are way more competitive and fragmented spaces. It has also gone mobile. In fact, 64% of Danes use the internet from their mobile phone every day. 15-29 year-olds use the internet from their mobile phones more than 1,5 hours a day and Facebook has 64% of the Danish population visiting their site every day. In this redefined media space, video becomes extremely important. Four times as many customers would rather watch a video about a product, than read about it. 50% of internet users look for videos related to a product or service before visiting a store.
This requires that music organizers put new skills into play in order to reach people, but it also creates a huge opportunity to tell stories at scale. Stories that inspire and engage fans. Many venues have embraced this and are working with artists and collaborators to create video content for their platforms. Making interesting video isn't easy, and putting out a boring one will not help you reach your audience. It's not the format. It's the story, which the format can deliver. At the end of the day it might seem like all the work that goes in to shooting, editing, writing copy and posting is worthless when it does not result in immediate ticket sales.
Nonetheless, it is hugely important that music venues embrace the journey of building a brand in the long -term, because if you get it right it really pays off. Though it can be hard, music venues must accept the fact that consumers are not primarily on these platforms to purchase anything. According to GlobalWebIndex they primarily spend time there for social reasons. That is to stay updated on their friends and engage with them. Secondly, they are there for individual fulfilment, to have a channel to say something or to receive news and information.
When we factor in that big brands such as Adidas, Netflix, GoPro, Playstation and others are also trying to occupy the same space that the music venues are trying to fill,it becomes important tounderstand the right kind of content creation and distribution for these platforms.
What does adopting a publisher mentality imply?
Adopting a publisher mentality implies a new way of perceiving yourself as a venue and as a business. This means 1) That you create content, which tells engaging stories, and 2) that you work towards cultivating communities through clever distribution of that content.
As a publisher, you constantly look for stories around your main product because your main goal is to get consumers to spend time with your content, not to buy something instantaneously. Your purpose is not only to go for the short-term ticket-sale, but for the long-term customer retention.
Suddenly the marketing-equation of the music venue changes to:
Storytelling + curation *distribution = Loyalty and sales.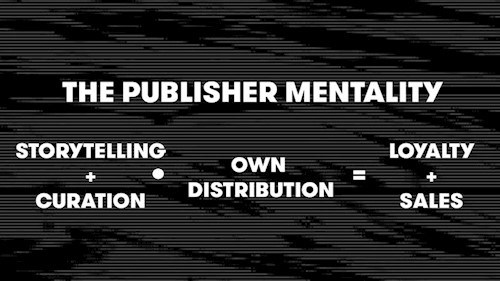 The storytelling and curation part of the equation can take many forms. It could be a long-form video format, podcasting, blogpost, pictures or something else. If the content is made with the purpose of bringing value to the consumer, whether that is information, inspiration or entertainment, it will create the leverage needed to later ask humbly for the purchase of a ticket. At this point the consumer will trust the music venue more, and become a more loyal supporter of the venue and its message. So, if you just happen to love rockabilly or speed metal, and your local venue continuously puts out interesting content, which shows they are committed and understand your fan-culture, that will make you more loyal to this venue. Because it's not just about hosting a speed metal show, it's about contributing to the speed metal subculture.
The distribution part is equally important. Start by considering which channels are most important to you, and how you can utilize them to best distribute the content you are planning to make. Whether it's Facebook, Instagram, e-mail or paid advertising, mastering the nuances and the possibilities of the platforms will be of increasing importance, when changing your mind-set. For a music venue, buying ads on Facebook and working with artist and partner channels is a good way to start in 2017/18.
What happens when you adopt the publisher mentality? 

Adopting a publisher mentality makes you look for stories everywhere around you that you can turn into engaging content. This way of thinking has the potential to fundamentally change the way you look at the traditional components of your event: artists, audiences, venue and media. 

The artists are no longer just people coming to your venue to perform, but are actual influencers and possible distributors of your message. They give you access to stories about backstage rituals, music history, genres, slang terms etc. Imagine having artists trying and talking about local dishes or recommending music from your local area? 

Segmenting and digging deep into the personalities of your audiences gives you access to stories about fan cultures whether it'd be punks, metalheads and hip hop. Catering to their needs also gives you a unique way of stimulating word-of-mouth and makes you able to go directly to them for feedback on events and content. 

Thinking differently about your own venue gives you access to stories about volunteers, the local community, architectural history and so on. Showcasing and storytelling about the brick-and-mortar and the people of your venue, gives the venue a more tactile and human touch that consumers will like. 

Owning the role as a storyteller makes your own media the most important media component. Instead of catering to the needs of journalists, you think of yourself as a publisher that is perfectly capable of creating and distributing a story on your own. 

This perception of your role as a venue/publisher/cultural contributor does not limit itself to digital environments, but can also be used to make the physical events more conceptual and longer lasting. Dissecting the event and rethinking the way that audiences, artists, venues and own media exist in these spaces, give room for more experiential concepts such as artist talks, lectures, guided tours, after parties and pre-concert social activities that make audiences stay longer, which means more bar sales and a deeper experience of your venue.
How to get started?
Not all music venues have the resources to become publishers over night, but the entry cost of establishing yourself as a publisher has never been lower. Following these few simple steps will get you started:
1. Go digging for stories
Examine your surroundings and the people who visit and perform in your buildings. Try going to your own show as a guest. What stories do you see? In the press release – what stories are you already hinting at that you can transform into engaging content?
2. your tone of voice framework

Once you know where to get your stories, you can start working on how the stories can be told. This requires that you find your own unique style of communicating. Start with your existing culture and mission statement, which will already have embedded language, style and tone. Which format fits this purpose best? Is it a weekly video-show, which curates local culture events? A podcast interviewing the artists before they come to the venue? Try asking your audience what they would like to hear, watch, consume and engage with.
3. Map your resources to the output you want

Anyone working in music knows that resources can be sparse. However, this new way of thinking requires resources, and though it might not be possible to do each format and channel, you will need people with skills in areas such as social media, videography and graphic design. Slowly allocating resources and training personnel will give you an eventual upside.
4. Go deep on tactical distribution

When you've got your stories, found the right format and produced it, you need to go deep into tactical distribution. Not every piece of content fits every channel, so you have to make versions of it to fit the vibe of the media channel, and even though much can be done with organic posting, you will probably need to buy ads at some point. We recommend that you start working on your Facebook audiences, the structure of your paid advertising, cultivating community through Facebook groups, segmenting your e-mail lists and creating a framework for deployment through partner channels, such as artists, collaborators and others.

Start the process today
Being a music venue in 2017 requires a different skill-set than just a few years ago, which can be frustrating to think about and I'm not going to lie.  The strategies outlined in this piece are going to take time, some money and hard work. Bust most of all, it is going to require a change of mind-set. Being a publisher is a different game than producing events. Luckily, music venues, unlike thousands of other businesses, which are facing the same challenges, have a product that people like and care for. It is easier finding interesting and engaging stories in a creative environment than trying to find them while selling soap, cereal or other commodities. Venues are in essence selling social activities with friends and long-lasting memories, which is a great platform to start building your publisher persona from. Consider yourselves ahead of the game already. Now it's about finding the stories, telling them right and distributing them in a smart way. Doing this will give you the brand relevance required to make your venue last for a long time, both physically, but also in the minds of audiences, artists, media and politicians. Millions of stories are being told to your core audience right now - go tell them your story instead!