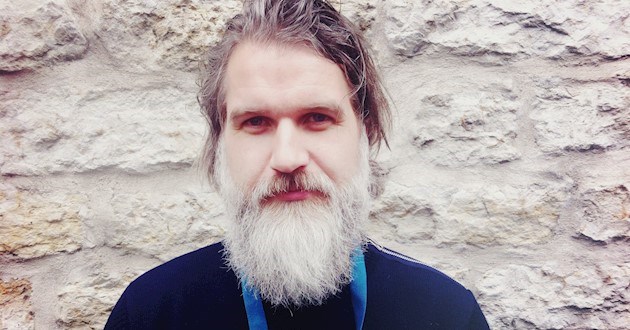 Søren B. Kristensen is the driving force behind many concerts, activities and musical societies in Denmark, such as Project Nordic Band Camp, record label association Labelkollektiv and Nordkraft (Center for culture and leisure in Aalborg). Søren has been a member of The Danish Arts Foundation's Committee for Music Project Funding and the chairman of ORA – Organisation for Rhytmic Amateur musicians in 2010-2013.
Now working as a project ambassador for puls, he has a lot of contact with Nordic music organizers. He works to shorten the way for applicants to the fund and raises awareness about new initiatives by utilizing his vast network of Nordic music organizers. He describes himself as a link between the fund and the applicants.
"I am able to have informal talks with the organizers before they apply and make sure the application is relevant and the work they are planning to do is not wasted. ", he says.
He stresses that a lot of organizers worry that the work that goes in to applying will be wasted. In those cases, they can write an e-mail outlining the project in three sentences to Søren and he will be able to reply with a good understanding of the project and how and if it can fit in to the program.
Why music organizers should 'think Nordic'?
Søren is passionate about getting more music professionals in the Nordic region to work together.
"We have a tendency to listen a lot to British and American acts, but there is a huge potential right next to us all in the Nordic market. If you look at the Nordics internally it is the world's 12th biggest economy. For artists and music professionals the Nordics as a whole should be a priority."
Søren stresses the fact that the markets are accessible because the cultural differences are limited, the language barriers are minimal and the way music is supported is similar to a certain degree. The general mindset is more or less the same. For organizers this means that it is relatively easy to collaborate and to follow up on collaborations. 
"For bands this means that the market has a lot of potential.", as Søren explains it. In his opinion there is an unfortunate tendency to only focus on going south to Germany, Benelux or France when looking to expand your audience as a band or artist. The Nordics become an 'overlooked' region in the expansion plans of many artists in all genres and at all levels of their career. Søren emphasizes that artists must see themselves as Nordic and realize that they are part of a larger market from the get-go. The music venues, however, must create an environment where having that point of view as an artist is not considered abnormal but natural.  And that requires collaboration.
How to start a Nordic partnership?
Søren has good advice for venues wanting to start collaboration projects through puls. Firstly, organizers should remember that the project should be Nordic at its core, and not a national project with a Nordic edge.
"You should do the project because you truly want to collaborate with Nordic actors, not because you are able to apply for funding. Organizers should ask themselves: what is the Nordic DNA of the project?", he says.
Secondly it is important to remember to focus on the similarities between the partners instead of focusing on the differences during the first stages of the collaboration. Get excited about something important you can do together first and then carefully outline both partners' organizations and funding structure, so the differences are exposed and can be acted upon when the project unfolds. 

Søren knows that finding Nordic partners, even when it's just searching online, can be a tedious affair. That's why he wants to increase more informal forms of collaboration and knowledge-sharing. That way, music organizers can get to know each other in a natural way, share ideas and eventually become project partners when the time is right. One of those informal forms of collaboration could, in Søren's opinion, be as simple as just recommending music to each other.
"Music organizers should take on a responsibility of curating artists from their own countries to other actors in the Nordics. It brings value to everybody and creates natural connections between the venues.", he says.
Here at the Nordic Culture Fund we encourage you all to start sharing music from your homeland with organizers in other countries and look forward to seeing a lot of good collaboration ideas in the puls applications in the coming months.